Welcome To The Pasadena Rose & Crown Hotel - Your Second Home
Are you planning your next sunny-time-day getaway? The Rose & Crown Hotel in Pasadena may be the perfect accommodation for you. Set at the base of the spectacular San Gabriel Mountains, this beautiful city is a hop, a skip, and a jump from Los Angeles. Home to architectural gems, world-class museums, and scenic recreational parks, a monthly Rose Bowl Flea Market, the opportunities for adventure in Pasadena are endless. The city's downtown area also features stylish shopping centers and red-hot restaurants. It's a perfect break from the big-city bustle.
At the Rose & Crown Hotel, we provide guests with an experience of comfort and convenience that keeps them coming back for more. Each of our stylish guestrooms has been recently renovated and features modern furnishings, tasteful décor, ample workspace, a 40" flat-screen TV, and free Wi-Fi. Guests are also provided with free parking, access to a heated swimming pool and fitness center, and complimentary breakfast (limited due to Covid-19). No matter what you're traveling for, the Rose & Crown Hotel will serve you our brand of Western Hospitality. Great value, friendly people – that's how we do things.
The Rose & Crown Hotel provides guests with easy access to visit the surrounding area's top attractions. Just blocks away from our property is the Rose Bowl Stadium, California Institute of Technology, and Old Town Pasadena. The city also has thriving dining, shopping, and nightlife scenes. Just 10 miles away from Los Angeles, the Rose & Crown Hotel is an ideal starting point to visit the entertainment city's most famous attractions, including Disneyland, Hollywood, Griffith Park Observatory, Huntington Library, Norton Simon Museum, Hiking Trails in the San Gabriel Mountains, and Dodger Stadium.
Culture, Science and History
We are conveniently located near all of the top attractions that draw visitors to Los Angeles every year. Take advantage of our ideal location during the annual Rose Bowl Parade, a family vacation, or a business trip. Enjoy affordable accommodations, and all of the on-site amenities to make your trip to Southern California a success.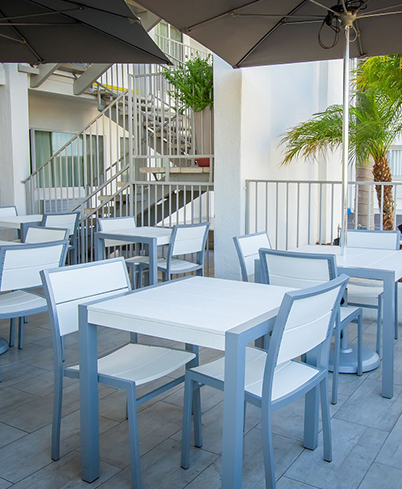 We invite you to take a closer look at all of the modern lifestyle amenities that we offer our guests. Our gallery lets you see all of the details of our guest rooms, and property features so you can feel confident in booking your stay. We look forward to hosting you at the Pasadena Rose & Crown Hotel.